Museums in New Orleans will fascinate you to visit them. New Orleans has a variety of museums. These museums preserve the splendid and historical artifacts of American Native culture and more.
1. Museums in New Orleans – 7 Museums You Must Visit!
There are various famous museums in New Orleans. Some of the famous museums are briefly listed below:
1.1. New Orleans Museum of Art
New Orleans Museum of Art is also known as NOMA. It is one of the oldest fine arts museums in New Orleans. As the Delgado Museum of Art, it was established in the year 1911. However, it is located in the City Park, New Orleans, Louisiana, USA.
Isaac Delgado, the art collector, and philanthropist, initially funded this museum. Further, Benjamin Morgan Harrod partly designed the building of the museum. He was the former chief engineer of New Orleans. When Isaac Delgado was 71, he petitioned to City Park Board to build a strong art museum in New Orleans. Then, the City Park Board approved his request.
The Isaac Delgado Museum of Art was opened on December 11, 1911. Due to medical conditions, Isaac Delgado could not attend the opening ceremony. Later on, he died on January 4, 1912. Meanwhile, the museum is a living legacy of City Park in his name.
The museum has a broad collection of over 40,000 permanent objects. These represent five thousand years of art. Also, it has a great collection of furniture art from the 18th and 19th centuries. It includes American furniture and a few parts of French furniture of the 18th century. Emile Kuntz Rooms and The Rosemonde E. are the highlights of the museum.
1.2. The Historic New Orleans Collection
The Historic New Orleans Collection is a publisher, research centre, and museum as well. The museum is determined to preserve the history of New Orleans. The main location of the museum is Royal Street, New Orleans, Louisiana, USA. The museum was established in 1966.
The General & Mrs L. Kemper Williams established this museum. So they can keep Louisiana's precious collection of materials. The motive behind this was to use these objects in the future for research. However, its collection executes a museum. This museum includes the Williams Residence, the Williams Gallery, and a museum shop. Moreover, Louisiana History Galleries and a house museum are also included.
Opened in 1966, the Williams Research Center organizes the holding for researchers. It comprises around 350,000 photographs, artefacts, paintings, and about 35,000 library essentials. The exhibitions of museum are displayed on a wide range of topics.
The museum building is comprised of the following:
Williams Residence
Merieult House
The rest of the museum buildings include:
Townhouse
Creole Cottage
Counting House
Louis Adam House
Maisonette
Williams Research Center
Its recognizable collections include:
William Russell Jazz Collection
Germans in New Orleans
Tennessee Williams Collection
Clarence John Laughlin Collection
Sugar Bowl Archives
William C. Cook War of 1812 in the South Collection
1.3. The National WWII Museum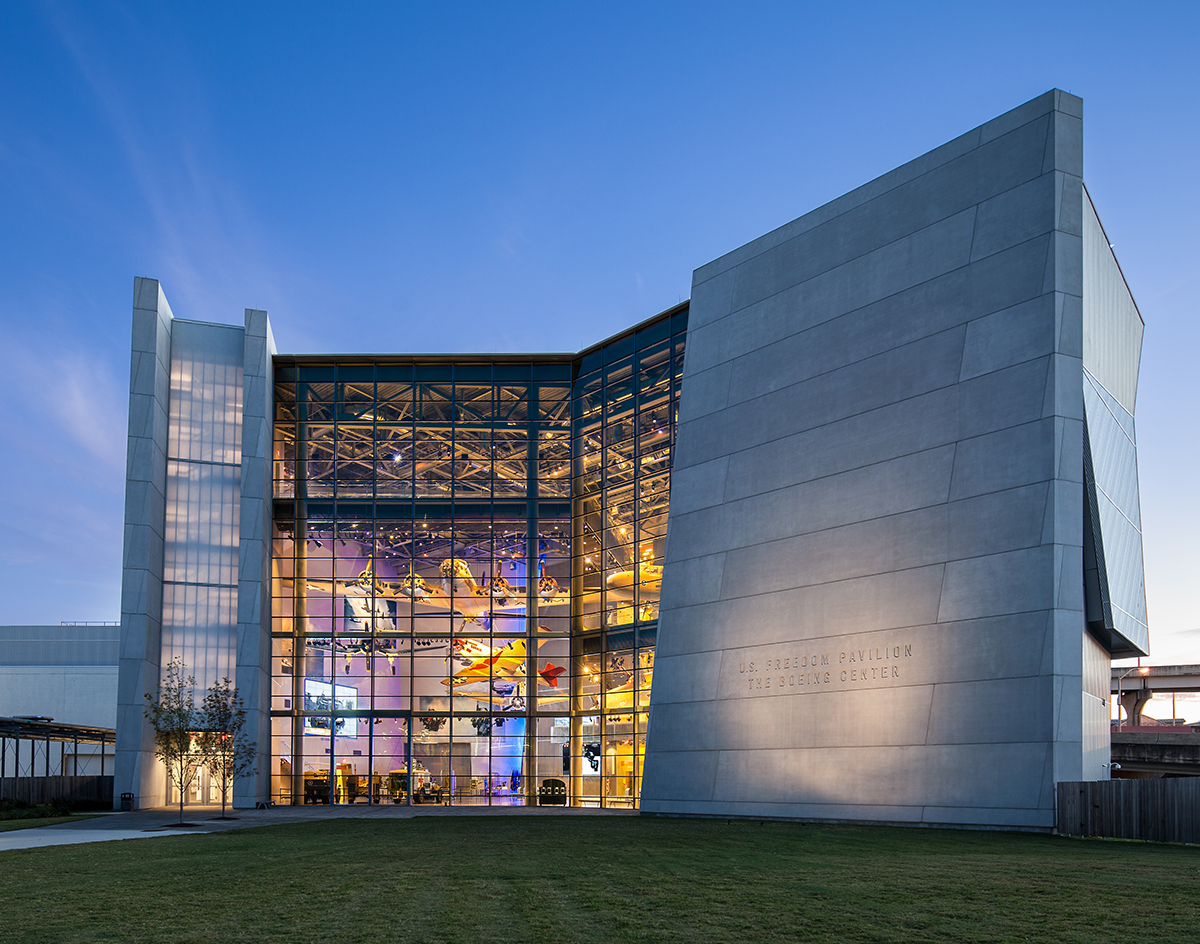 The National WWII Museum is a historic military museum. It was formerly known as The National D-Day Museum. The museum is situated in New Orleans, Louisiana, USA. It was established on June 6, 2000. However, the museum is mainly focused on the American victory during World War II. In 2004, U.S. Congress designated this museum as America's official National World War II Museum.
Its historical artefacts include:
Norden Bombsight
Sherman Tank
Louisiana Memorial Pavilion
Enigma Machine
A segment of the Atlantic Wall
Higgins Boat
Air Raid Shelter
M2A1
M1A1
Anti-tank Gun
1934 Opel Sedan
The famous collections of Airplanes in the museum are:
Vought F4U Corsair
Spitfire Fighter Plane
Curtiss P-40 Warhawk
Dauntless Dive Bomber
C-47
B-17
The museum is situated in the section of Weckerling Brewery. William Fitzner was a local architect who designed it. Later, it was renovated and began as the D-Day Museum.
1.4. The Cabildo
The Cabildo is Louisiana's State Museum. It is situated in Chartres Street, New Orleans, USA. Initially, the museum was Spanish Colonial City Hall's seat in New Orleans. In 1788, the Great New Orleans Fire destroyed the original Cabildo.
The reconstruction was started in the year 1795. Further, the construction was completed in the year 1799. It was rebuilt at that time as the Spanish Municipal Government's home in New Orleans. The Spanish coat of arms was removed in 1821. It was replaced by the American eagle known as Pietro Cardelli. It was an Italian sculpture.
Later, in 1847, the third floor was replaced in French style with the mansard roof. This building is named after a governing body Illustrious Cabildo. The Sala Capitular means the meeting room. It was initially used as the building's courtroom. Now, it is the museum's main hall.
From 1799 to 1803, the Spanish used this courtroom. From 1803 to 1812, it was used as the Territorial superior court of Louisiana. Later, it was used as the seat of the Louisiana Supreme Court from 1868 to 1910. In 1895, the museum's building started to decay and was announced for demolition. Then, William Woodward, an artist, led a successful campaign to preserve this site and to restore it.
1.5. Backstreet Cultural Museum
The Backstreet Cultural Museum is situated in New Orleans. It is one of the most famous museums in New Orleans. It was founded by Sylvester Francis. The museum has a wide collection of African American culture in New Orleans. Its specialties include Mardi Gras Indians, Second Line Parades, and Jazz Funerals.
The museum is packed with many precious artifacts. These artefacts represent the African-American culture of New Orleans. Further, it includes brightly coloured suits. Mardi Gras Indians wore these suits in the past years. It also has rare photographs of Mardi Gras Indian 'gangs' from the 1940s.
1.6. Ogden Museum of Southern Art
The Ogden Museum of Southern Art is situated in 925 Camp Street, New Orleans, Louisiana, USA. It is mainly comprised of two primary buildings. First is the Stephen Goldring Hall. It is a five-storey building made of glass and stone. The 47,000 square ft. building was built in 2003. Second is the Patrick F. Taylor Library. Henry Hobson Richardson and built-in 1889 designed it.
Its huge collection includes the works of the artists of southern states. These states are South Carolina, Alabama, West Virginia, and North Carolina. Further, it includes Oklahoma, Louisiana, Tennessee, Florida, and Georgia. Moreover, Arkansas, Mississippi, Kentucky, Virginia, Maryland, and Texas are also part of it.
However, the works of many artists are showcased here. Following are some of the artists:
George Dureau
Walter Anderson
George Ohr
John Alexander
Hunt Slonem
Benny Andrews
Will Henry Stevens
James Michalopoulos
Ida Kohlmeyer
Clementine Hunter
William Dunlap
George Rodrigue
Kendall Shaw
Its galley has amazing paintings by various artists; these artists are listed below:
Joseph Rusling Meeker
Jacques Amans
Ellsworth Woodward
Lulu King Saxon
William Woodward
Harry Armstrong Nolan
M.L. Pilsbury
Andres Molinary
Bror Anders Wikstrom
1.7. Museum of Death New Orleans
The Museum of Death New Orleans is located in New Orleans. It is a museum with many locations: New Orleans, Los Angeles, and Hollywood. Catherine Shultz and J. D. Healy established this museum in June 1995. Initially, the museum was established in San Diego in 1995. It was inside a building that was claimed to be the city's first mortuary.
At first, they started it as a hobby to keep their collection. They write to their desired serial killers for the art. They show off their artwork in a specialist show. After some years, these exhibitions and the unique collections of artwork were converted into a museum. From the suicides of Heaven's Gate in 1999, they tried to gain more materials related to it.
However, they maintained to buy many items. They tried to recreate the scenes with these materials. It grabbed the attention of different press interests and got publicity. Later, they shifted to Hollywood Boulevard in Los Angeles. In 2014, the couple started a new branch of the Death Museum in New Orleans.
It was called Musée de Mort Orleans. This museum showcases a large range of artefacts and art. However, all these materials are related to death. The Baby Coffins are placed in one segment of the museum. Meanwhile, artwork and letters from many serial killers are placed in another box.
2. Conclusion
New Orleans has many museums. These museums display and showcase artefacts with a great or unique history. The New Orleans Museum of Art has a wide variety of artworks by various famous artists. So, these artworks reflect the history of American Native culture.
On the other hand, museums like The National World War II Museum represent the great history of World War II. Moreover, museums like Death Museum showcases something unique that is unavoidable. It grabs the attention of a wide range of audiences from all around the world.
Museums have educational, cultural, as well as economic significance. It preserves the great ancient items that can take you back in time.
For more details, click here.