Vermont a state in the northeastern United States is known for its natural beauty and spectacular landscapes.
Vermont has been named the best state to live in America based on healthcare, education, job opportunities, housing, and environment.
With so many amazing things to do tourists face a tough time in deciding among the best places to visit in Vermont.
The state has many outdoor places like national and state forests, campgrounds, and parks that lead to the people of Vermont living a very active lifestyle.
13 Best Places To Visit In Vermont
Vermont is known for its lush green forests which constitute seventy-five percent of its area, stunning mountains, wooden bridges, hiking trails, and ski slopes.
Tourists visit Vermont for its natural beauty, museums, mountains, cafes, golf courses, history, and vibrant and ever-evolving art scene.
Vermont is an experiential destination for tourists with its landscape, heritage, snowfall, breweries, distinct seasons, and the wonderful people who reside here.
Here is a list of the Best Places To Visit In Vermont.
1. Ben And Jerry's Factory Tour
Tourists can visit the iconic Ben and jerry's Waterbury factory in Vermont which is also its very first manufacturing site.
This is the only site which allows guided tours to the public since 1986 and makes them a part of this whole amazing ice cream-making process.
The guests can have a delightful and joyful experience relishing these ambrosial ice creams with their friends and family.
Prior booking is required for visiting the factory .and one must go through the rules and regulations that need to be followed before entering the premise. This is one of the best places to visit in Vermont, especially for kids.
The visitors booked on the guided tour can enjoy the various flavorful ice creams while having a look at the production floor and the tour ends with the Flavor Room where one can taste their euphoric flavors.
There is a Scoop Shop and outdoor Gift Kiosk for the visitors. People can enjoy their favorite flavors in freshly baked waffle cones, sundaes, and milkshakes.
The gift shop has a selection of Ben and Jerry's t-shirts, souvenirs, and many more memorable items.
2. Lake Champlain
Lake Champlain has been named 'one of the best lakes' in this region. There are more than a hundred varieties of birds that live on or near this lake and are dependent on it.
The lake has more than 90 species of fish and is considered one of the best bass fishing lakes in the Northeast.
The lake is great for fishing, cruising, swimming, or just relaxing and soaking in the beautiful views.
One of the most fun facts about the lake is that people still think that there is still a dinosaur in the lake as it is home to one of the oldest known fossil reefs in the world.
For most of the swimming season, beaches in most places of the lake are open to the public and safe for swimming.
The Adirondack mountains that form the backdrop of this crystal clear lake gives an illusion that one is looking at a beautiful painting.
The lake has some great swampy places for wildlife viewing. This is a beautiful vacation destination among one of the best places to visit in Vermont.
Lake Champlain is also a perfect place for birdwatchers. Tourists may also take bike paths to go around the lake.
There are many boat and cruise tours that tourists may avail themselves of to enjoy the scenic beauty of the lake. This is also a perfect picnic place for creating some lifelong memories.
3. Visit a Maple Farm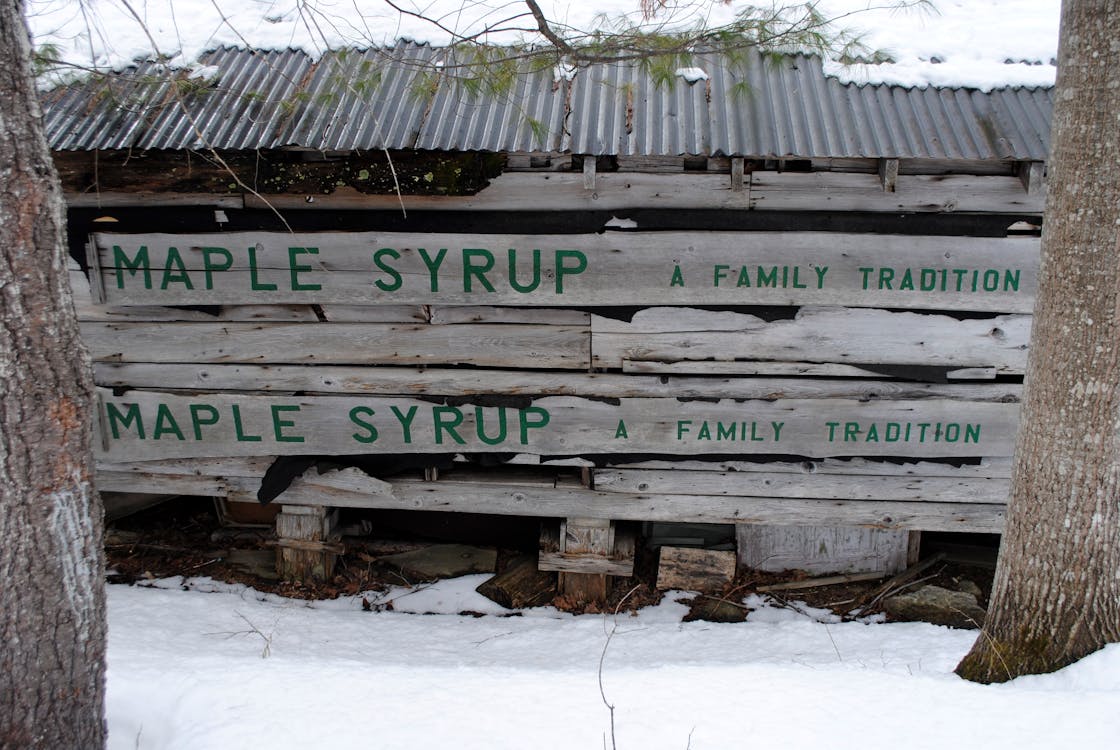 Vermont has the perfect combination of the right trees, the right weather, and the right people for maple production.
Maple is the flavor of Vermont for centuries where every spring sap is harvested from maple trees along the hillside and then boiled to form maple syrup or sugar.
Tourists may try maple syrup that tastes different from town to town due to variations in soil.
Visitors can take a look inside a Maple Sugar House where they will experience the aroma of maple syrup, the whole cooking process, and lastly the flavorsome taste of fresh maple syrup.
Vermont Maple Open House Weekend is a state-wide event held in March that celebrates the maple season and sugar houses across the state are open to the public where they can watch the entire process of maple syrup making.
Visitors can visit any sugarhouses for syrup, samples, tasting, and more with their family and friends.
Tourists must book a sugarhouse tour in Vermont to experience this amazing process.
Some of these prominent Sugarhouses that are mentioned among the best places to visit in Vermont are Sugarbush Farm, K. Ruane Maple Farm, Baird Farm, and Green Mountain Sugar House.
4. Burlington Bike Path
Burlington Bike Path is immensely popular among tourists visiting Vermont and is a crown jewel of park systems and one of the best places to visit in Vermont.
This is eight miles of the paved path with facilities for runners and walkers starting from south of Oakledge park to the Winooski River in the north.
The Burlington Bike Path runs through and connects many major parks and facilities along the shore of Lake Champlain.
The path is part of the longer Island Line Trail and seasonal bike ferries can be availed by the tourists to continue with their ride on the island.
At several points along the path parking and restrooms are also available.
There are many bike rental shops where tourists can get the bike of their choice. Some bike rental shops are SKI RACK, North Star Sports, Local Motion, and Green ride Bike Share.
Some amazing bike trails are Burlington Greenway, Riverside Bike Path, 127 Bike Path, Ethan Allan Park Trails, McKenzie Park Trails, and several more.
5. Montshire Museum Of Science
This award-winning and hands-on science museum is located in Norwich, Vermont. The place has more than a hundred exhibits related to ecology, technology, and natural and physical sciences.
Montshire Museum has many indoor and outdoor exhibits. Being a hands-on museum people are encouraged to touch the exhibits and explore.
The indoor exhibits have a science discovery lab, interactive full-size machines, life in local waters, wonderful wood, and air works.
The outdoor discovery and trails include a play grove, woodland garden, planet walk, river loop, meadow walk, ridge trail, and blood brook trail.
Visitors can explore mind challenges, blocks, musical instruments, and bubble exhibits, visit the NASA area, or can watch the ant colony apart from numerous other things.
The museum also has a David Goudy Science Park which is just like a living laboratory and has numerous hands-on exhibits on astronomy, sound, motion, and natural history.
This is one of the most interactive museums and one of the best places to visit in Vermont for kids of all ages. There are many activities for kids and the play area has a padded floor so that kids do not get hurt.
The staff here is very friendly, courteous, and helpful and even gives hints if someone is stuck with a puzzle. The place is wheelchair-accessible and fun for people of all ages.
6. Green Mountain National Forest
The Green Mountain National Forest is a spectacular place full of hiking trails, streams, fall foliage, lakes, waterfalls, and ponds, and one of the best places to visit in Vermont.
This National Forest is huge in area and there are many activities that visitors can indulge in here like fishing, paddling, skiing, hunting, camping, and snowshoeing.
There are many hiking trails in the forest area, both, for expert hikers as well as novices. People can also just walk around and enjoy the stunning views.
A few trails that are worth hiking are Stratton Pond, Little Rock Pond(Mount Tabor), Bromley Mountain, Bald Mountain, Harmon Hill, and Haystack Mountain in the southern section of the forest.
Trails in the northern section are Sunset Ridge hike, Mount Abraham trail, Deer Leap, Mount Horrid's Great Cliff, and a few others.
Tourists can also visit some stunning waterfalls in the forest area like Texas Falls, Thundering Falls, and Falls of Lana.
There are many campgrounds within the forest area where visitors can stay. Some of the best camping sites are lakes and ponds. The information regarding the same can be found on the website of Green Mountain National Forest.
The forest has some beautiful paddling spots with clear pristine water that is perfect for enjoying and relaxing.
The best time to visit one of the best places in Vermont, the Green Mountain area is between May to October.
7. Hildene, The Lincoln Family Home
Hildene is located on the Lincoln family estate in Manchester village and is a very popular destination among tourists as well as locals and is one of the best places to visit in Vermont.
The huge estate consists of a forest, wetland, field, and 14 historic buildings including Robert and Mary's Georgian Revival Mansion.
Guided tours of the estate are provided to help the visitors in gaining knowledge about the history, architecture, and various events of historic importance.
The grounds are beautifully maintained and there is a Pullman train car, working farm, and gift shop providing local treats that are made on the Hildene farm.
The staff here is very knowledgeable and friendly to give you an unforgettable experience that would last a lifetime.
There are a great number of walking and hiking trails where you can walk through the picturesque garden or the grounds to see the beauty of this area.
This was Lincoln son's summer home there are many antique and original pieces of furniture with proper descriptions and many other artifacts and exhibits to see inside the house.
Tourists can also visit the Goat Dairy where they produce cheese and the Dene farm where they keep different types of animals like rabbits, sheep, ducks, chickens, cattle, and alpacas.
8. Billings Farm And Museum
This is an award-winning outdoor history museum with a fully operational dairy farm. The farm has many educational exhibits and interactive programs focused on rural life and events for the public are conducted throughout the year.
The Billings Farm is a gateway to Vermont's rural heritage and is one of the finest dairy farms in America and one of the best places to visit in Vermont.
The place is great to learn about Vermont's history and the development of farming in this region. There are many historic photographs of the farm, workers, and livestock on display.
There is a small animal barn where tourists can play with goats, calves, and sheep and can also attend the milking demonstration of the cows on the farm.
Through the history museum, visitors can gain information about the farm and its owners. There is an indoor recreation of a general store and a farm home to give the tourists an experience of farm life in the 18th century.
The museum is a great way to learn and see how people use to work and farm before the development of modern farming equipment.
The farm staff creates a fun and interesting environment throughout the year to appeal to all the age groups visiting here.
9. Fairbank's Museum And Planetarium
The Fairbank's Museum And Planetarium were founded in 1890 and are a combination of a history museum, natural science museum, and a planetarium.
The museum has an amazing exhibit in the form of Butterfly House which has dozens of native butterflies like painted ladies, mourning cloaks, tiger swallowtails, and many more.
The whole life cycle of butterflies is on display and is a very enjoyable learning experience.
There is an Autosaver Group Build It lab that encourages imagination and is great for both the mind and muscles.
A lab is a place where kids can experiment with gravity, balance, movement, structure, and many other scientific concepts.
The museum has a Night Owl Club that organizes monthly conversations about astronomy events and space exploration activities.
The visitors can interact with the guest scientist and know about the latest telescopes, discoveries, and events in the scientific world.
The planetarium organizes various presentations on different topics throughout the year and is a fun way to make kids curious about various science topics.
Bookings must be done by tourists who want to be part of this immersive surrounding experience.
Fairbank's Museum And Planetarium are one of the best places to visit in Vermont they enhance the whole learning experience of people of all age groups.
10. Quechee Gorge
Quechee Gorge also known as the 'Grand canyon' of Vermont serves as a popular tourist attraction in Quechee State Park and is the deepest gorge in Vermont.
The gorge was formed by glacial activity almost 13,000 years ago and records stupendous footfall every year for its breathtaking views.
Quechee Gorge is home to small swimming holes, hiking trails, and waterfalls. The various trails around the gorge are extensive and challenging.
The Ottauquechee River flows through the bottom of the gorge and is a popular swimming spot among tourists and is counted as one of the best places to visit in Vermont.
There is a picnic area next to the gorge along with a hiking trail. The visitors to Quechee Park can enjoy various popular activities like night hikes, campfire programs, and amphibian explorations.
There is a gift shop near the gorge that is Vermont's oldest, family-owned, premier gift shop. Tourists may purchase souvenirs, toys, clothes, deer figurines, stuffed toys, and glassware along with various other things from here.
Tourists may also visit the Quechee Gorge Bridge which gives a view of the gorge from high up but is not for people with a fear of heights. The views from the bridge are breathtaking and gorgeous.
Tourists who are not interested in hiking can simply climb the bridge to view the spectacular beauty of the gorge.
11. Rock Of Ages Quarry
Rock Of Ages Quarry is the largest operating deep-hole, dimension quarry in the world at nearly 600 ft deep and is one of the best places to visit in Vermont.
This one-of-a-kind tour experience must not be missed by tourists coming to Vermont. The tour takes almost one hour and is not conducted throughout the year.
There is a visitor center that conducts guided tours of the quarry. The guides available here are experienced, friendly, and full of fascinating facts about the quarry.
The visitor center is almost like a museum full of interesting and fun facts about the quarry and its history.
Visitors can learn about facts, figures, and information on the mining processes and the safety precautions that are undertaken here. People also get to know about the personal experiences of people who have worked here.
The view from the top of the quarry is mind-blowing and the visitors can also view the gorgeous Vermont hills.
12. Brattleboro's Farmer Market
The Farmer's market comprises numerous friendly and informative vendors and farmers selling their produce.
There are lots of booths full of farm-fresh jellies, fruits, honey, syrups, vegetables, flowers, and many other things.
The market also has various food trucks that offer a varied and diverse menu catering to people's tastes and preferences. They also offer various dairy-free and gluten-free options.
Tourists visiting the market can buy various handmade goods like craft items, ethnic food, pastries, jewelry, alpaca products, and numerous other goods.
Brattleboro's Farmer Market is a delight to visit with a great atmosphere and vibe and has something for everyone and is one of the best places to visit in Vermont.
13. Church Street Marketplace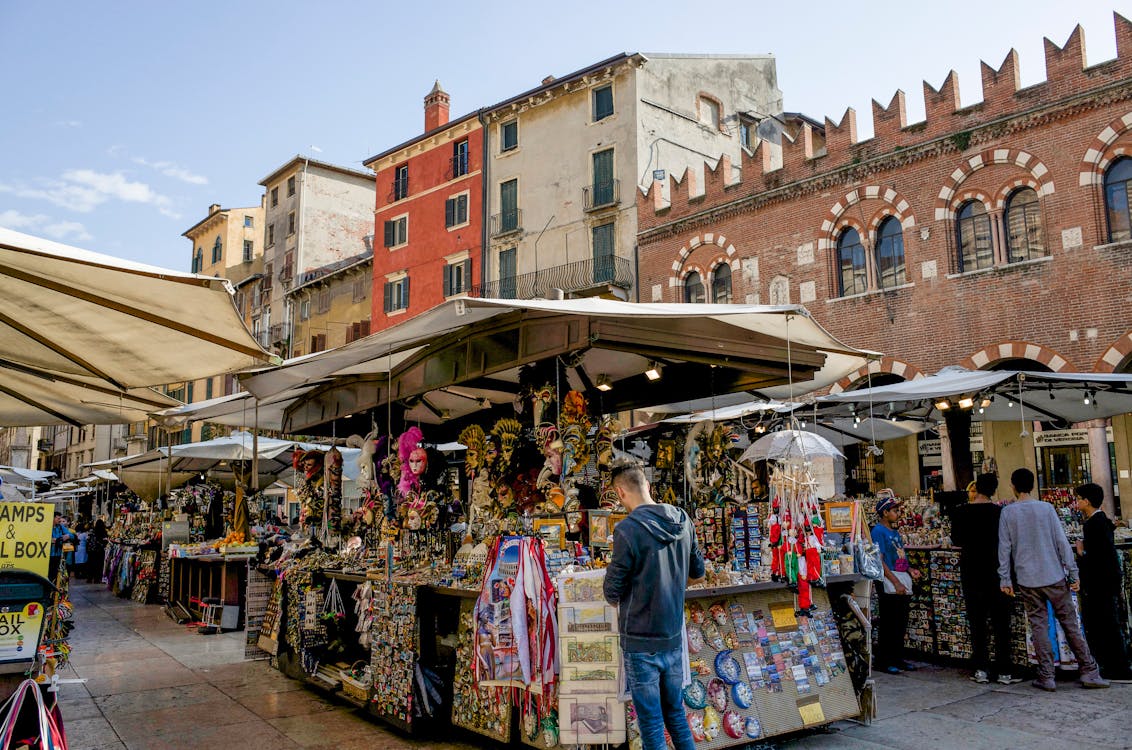 Church Street Marketplace is an award-winning uncovered outdoor pedestrian shopping and dining mall that is home to more than a hundred stores and restaurants along with year-round entertainment and activities.
Its colorful cafes, amazing art scene, and great atmosphere attract tourists from all over the world.
This is one of the best places to visit in Vermont and a great shopping hub. Tourists will find everything here from clothes, books, and antiques to ambrosial food items.
Church Street is home to one of the most famous ice cream companies in the world Ben And Jerry.
The street is full of vibrant art and music scene and it is very common to find someone playing guitar or singing as you stroll down the street.
Tourists will be delighted to see murals bursting with colors and cultural significance around every corner.
The street has a very diversified food scene and you will find numerous international food options like Asian, Thai, Chinese, and numerous others. There are a lot of food carts, pizza options, and cheap eats also.
The marketplace has amazing nightlife and gets especially lively on weekends with numerous bars and restaurants catering to the needs of the customers.
Final Words
The state of Vermont has numerous tourist attractions that are worth visiting. The state is full of natural beauty and some amazing wonders that will take your breath away.
Vermont is a stunning estate to explore. Hope the above list of the best places to visit in Vermont helps tourists in deciding their perfect itinerary and destinations in this spectacular state.
FAQs
1. Which is the most beautiful place in Vermont?
Lake Champlain is the prettiest place in Vermont and you have to visit the place when you are in the state.
2. What three things are Vermont's claims to fame?
The very famous and tasty Ben and Jerry's ice cream is only one of the delicacies that Vermont is famous for, along with Vermont cheddar cheese, maple syrup, etc.
3. Which month is ideal for travel to Vermont?
The greatest time to travel to Vermont is often from September through the first half of October.